Helllooo
! Happy Mid-Week! Allow me to introduce you to a new found wonder!
PIXIE KNITWEAR
Please note the very exciting SALE sign that means you get pretties for less! As you know by now I am hopeless at descriptions so I will let the
website
speak for itself.
"Pixie is an independent UK based fashion label specialising in knitwear. Founded in 2008 Pixie was born on a foundation
of love for gorgeous, fun, great quality, sexy knitwear.
Always at the forefront of fashion, Pixie was snapped up in its first season by
Topshop
and stocked in its iconic Oxford Street
store. Pixie is now stocked in some of the best retailers from the UK through Europe, Canada and the USA.
Pixie is fast becoming the knitwear brand of choice for the fashion
concious
crowd as well as its celebrity followers from
Mischa Barton and Katie Price to
Fearne
Cotton,
bloggers
also love Pixie and can often be found styled up on
lookbook
nu"
I found Pixie through another blog that had recently featured them (speak up if it was you!) and started to stalk/follow them on twitter. The next day an e-mail popped up from the sweetheart brains behind the movement offering me the chance to try a couple of pieces from the store.
Here's a small sampling of the goods on offer!
These are the bold, graphic pieces from the collection...with my choices I decided to go down the softer, more
girl
y look and I'm wearing one of those pieces today.
The Stripe and Bow Sweater (quite possibly the softest and most beautifully made sweater I have ever owned in my life)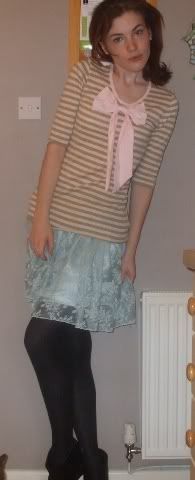 Have you heard of
Pixie Knitwear
before?
Who wants to guess the second item that I picked?
xxx