Well, I survived Ikea yesterday, I think it took us longer to get in to the place than it did to get around it, and I got what I wanted, which was some cheap white plates and bowls for ceramic painting.
The Cath Kidston sale was awesome, although I ended up buying full price stuff! There was so much I wanted that it was easier to resist the sale altogether, really.
I ended up with
egg cups
(which match my plate and bowl)
And this sweet little
purse
. I was orignially going to get the blue version, which was in the sale, but loved this colour more.
If your a fan of Cath Kidston (and have more money than I do) get yourself down there!
Today's outfit is a bit of a random combination, but it's warm, comfortable and I'm past caring what I look like for now!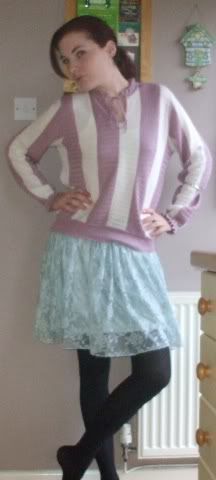 I look so dumpy without shoes on, haha. Oh dear.
This is my winter coat which was my main Christmas gift from my parents. The photo does it no justice at all, but it's no longer on the M&S website so I can't show you how it's supposed to look! The material is fine cord and it's just so warm, without being bulky.
I'm also wearing this charming bangle, of which my Mum has matching. It's her favourite quote ever and means a lot to the both of us.

What are everyone's New Years plans? I'll probably stay in (just for a change) with my parents and brother, unless anyone wants to invite me to their wild party! I can't afford pubs and clubs, especially not on NYE!
xxx