Hello, Happy Monday and all that jazz...did you have a good weekend?
Winter is well and truly upon us and I'm struggling to find inspiration for outfits that are WARM. Most of my clothes seem to be of the summer variety, I need more knit wear, long sleeve dresses and trousers!
Today I'm wearing a floral shirt dress from H&M a couple of years back, navy tights and the cutest little socks from
Tabio
for added warmth!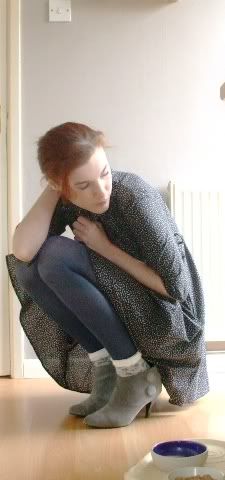 I'm really starting to embrace socks with tights as it means I don't always have to rely on long boots! I'm not sure it is the most flattering of looks but I'm pretty much past caring.
Oh, and yesterday I think I out did myself on the crazy tights front!
They made me smile all day!
Have a wonderful start to the week! What's on the agenda?
xxx
P.S. Don't forget to enter my
giveaway
it's open to EVERYONE.