Still.So.Cold.
I was not made for winter, not at all. The last few days I've lived in jeans and jumpers which is most unlike me, and by today I had had enough of it and dug around for layers suitable for under dresses. Most of my dresses aren't suitable for winter dressing anymore, no longer loose enough to fit tops under, but...well, I'd rather have them snug than be how I was.
To make tights more weather proof, I added some fabulous leg warmers from
Tabio
(sorry the photos are pretty rubbish, I was rushing)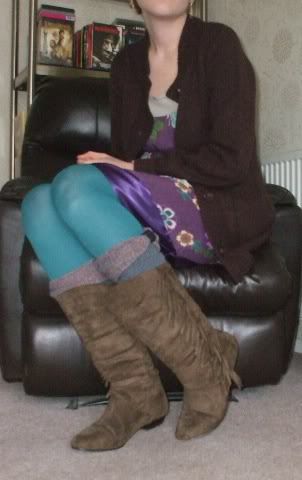 I'm off Christmas shopping with the parents today and I'm hoping this outfit will keep me warm enough.
If it get any colder, I don't know how I'll manage...wear my Slanket in public I guess!
xxx
P.S. I've signed up to be an EYEKO ambassador, if you fancy treating yourself make sure to use my code E12740 (also on my side bar) to get a free gift if you spend £15 or more!
P.P.S. Don't forget the giveaways!